Export the groupment.com calendars to a number of "ICS" supported calendars including Google Calendar, Outlook, iCal, etc. The Groupment calendars feeds are updated every time an event is added or updated.
Your Personal Feed of Events
School-wide Calendar
Group Calendars
Starring a group calendar will add all its events to your Personal Feed (see above).
If you are a member of the group, the feed will contain public AND members-only events.
If you are an officer of the group, the feed will contain ALL upcoming events listed in your manage section.

Benefits of Subscribing to Calendars
View your CampusGroups events in your personal calendar (i.e. Outlook, Google Calendar, iCal, iPhone Agenda, Android, etc).
When a group modifies an event, it is automatically updated in your personal calendar.
Receive event reminders (right now, this can only be achieved by subscribing from your iPhone/iPad).
Why should you star events in CampusGroups?
Save time - When you star an event in CampusGroups, it is automatically added to your personal calendar in 1 click.
Customize your list of events - As opposed to the Group Calendar Feeds, your Favorite Events feed allows you to select the events you are interested in, and to only have these events added to your calendar.
Know when changes happen - We notify you when an event you starred was modified or cancelled.
There are 2 types of ICS feeds in CampusGroups:
(1) Group calendar feeds: containing all public events of a group (go to the Calendar and click on Subscribe to Calendars to access these feeds)
(2) Your personal feed of events: containing all events that you "Starred" in CampusGroups + All the events of the group calendars you starred
How to subscribe to an ICS feed into your Outlook Calendar
1) Click on the
Copy Link
link and copy the ICS URL.
2) In Outlook, on the
Tools
menu, click
Account Settings
.
3) On the
Internet Calendars
tab, click
New
.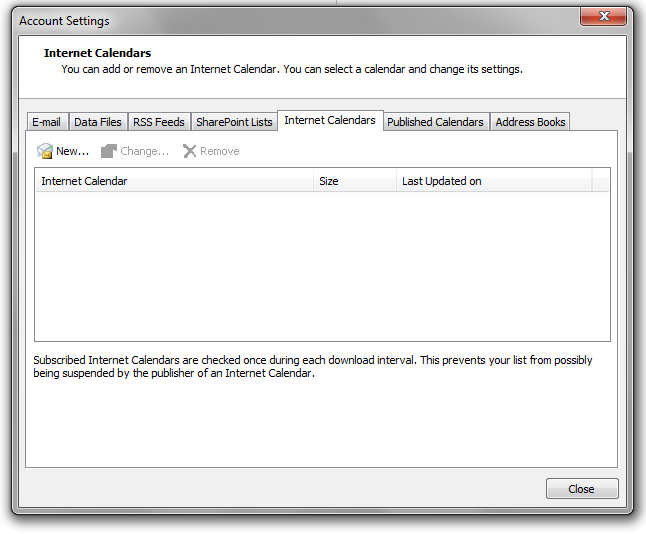 4) Paste the URL you copied in step 3. Click
Add
.

5) In the
Folder Name
box, type the name of the calendar as you want it to appear in Outlook, and then click
OK
.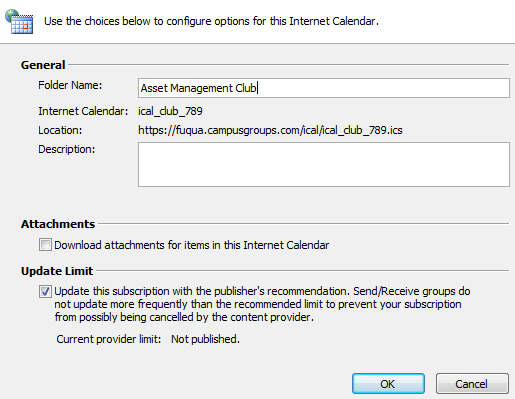 6) Click ok. You should see your new calendar on the left of your Outlook:


How to subscribe to an ICS feed from your iCal Calendar

1) Copy the iCalLink URL under the "ICS Feeds" tab of this popup.

2) In iCal, on the Files menu, click on New Calendar Subscription.

3) Paste the URL you copied in step 1. Click Subscribe.


How to subscribe to a ICS feed from Outlook Calendar:
1) Click on the
Link
link and copy the ICS URL for the calendar you wish to add.
2) Open a new tab in your browser and go to outlook.com for groupment and sign in with your NetID and password.
3) Click on the
Calendar
link in the O365 Ribbon

4) Right Click on
My Calendars
and select
open calendar
from the context menu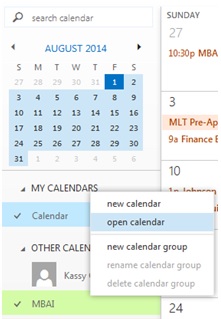 5) Paste the calendar URL into the
Internet calendar:
box and click the
open
button.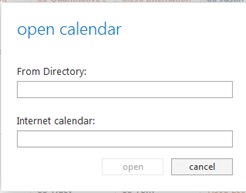 6) Back in the Calendar view, expand
My Calendars
. Right click the newly added calendar and choose
Rename
. Choose a name that reflects how you want to view the calendar. This change will be reflected on all your personal devices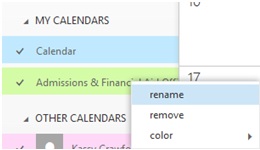 How to subscribe to an ICS feed from your Google Calendar:
I] First Method
1) Click on the
Google Calendar
link of the group which calendar you want to export.

2) In the new tab, choose
Yes, add this calendar

Your Google Calendar should now be updated. But sometimes, depending of the configuration, you are not allowed to add the calendar and you see this screen:

This is due to a conflict between Google Calendar and your browser. You can try to update your browser, or even better for this widget, use Google Chrome. Or follow the second method.
II] Second Method
1) Copy the link of the "Cannot add" message, then click
OK
.
2) Go to Google Calendar. Click on the triangle next to Add in the "Other Calendars" section (bottom left of the screen) and select
Add by URL
.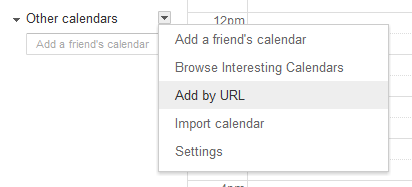 3) A window will pop up asking for the URL of the calendar. Paste the link you copied on step 2 and click on
Add Calendar
.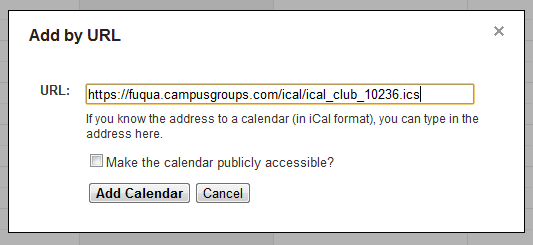 4) The events of the selected group will show up on your calendar and they will get updated just as they are on CampusGroups.
We have noticed that after Step #3 some Users may sometimes get the following Error Message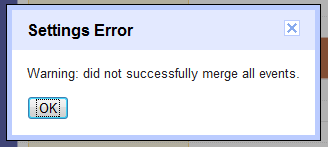 If this happens to you, just repeat instantly Steps 4 and 5 and you should be fine.
How to synchronize CampusGroups ICS feeds with an iOS device
1) Open the
Settings
application on your device's home screen
2) Open
Mail, Contacts, Calendars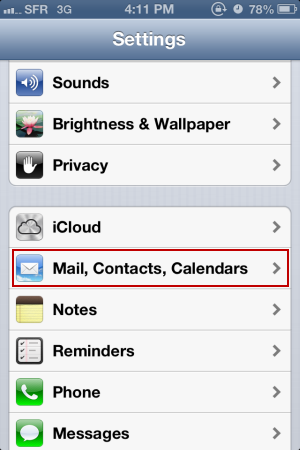 3) Select
Add Acount...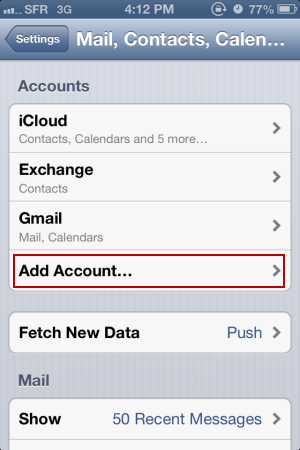 4) Select
Other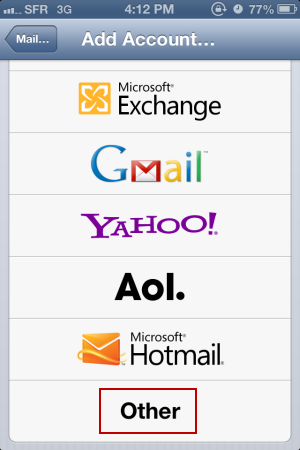 5) Select
Add Subscribed Calendar
6) In the
Server
field, enter your ICS feed URL (.ics)
7) Leave the
Remove Alarms
to "Off" and click
Save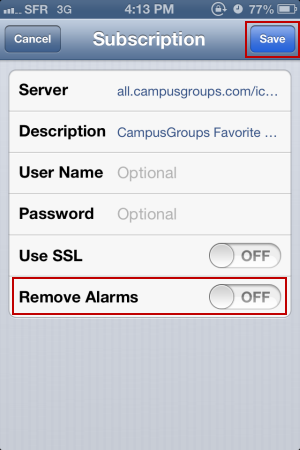 8) Open your
Agenda App
from the home screen of your device and click on
Calendars
. Make sure that you new ICS subscription is there and checked. You can select a color for your new subscription.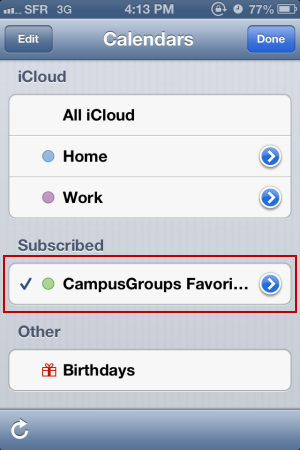 9) On your Agenda App, if you click on an event, you can see all
Event Details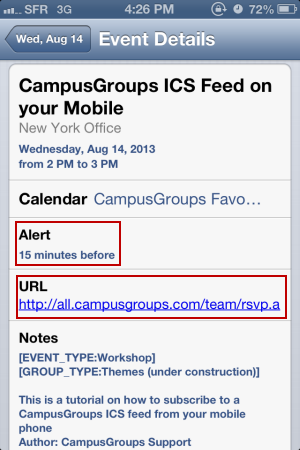 You will receive a notification/alarm on your device 15 minutes before an event.